Everything you should know about the Covid Vaccines in India!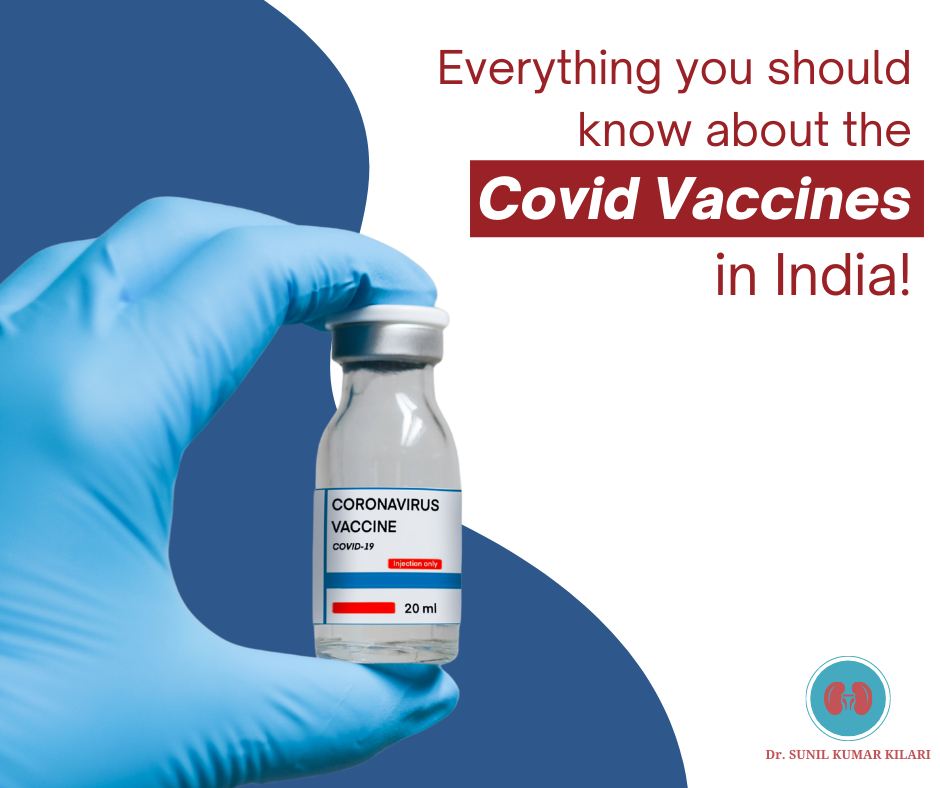 The new double-mutant covid-19 variant appears to be much more dangerous, compared to the previous one as it dodges the antibodies generated by our immune system. Previously, people in the age group of 45-70 were more vulnerable to this epidemic but with these variants, even the younger population is at risk. In addition to the older symptoms, the new variants show new symptoms like Conjunctivitis, Loose Stools, Vomiting, Fatigue, Body pain, and Headache.
Nevertheless, with the massive production and distribution of vaccines all over the world, the virus is steadily getting under control and people have started slowly returning to their pre-covid lifestyle. If we continue to stay cautious while following all safety measures even traveling could be done with minimal risks.
The government of India had declared vaccination available for everyone from the age of 18 on May 1, 2021, in an attempt to control the second wave. Since then, many people have been vaccinated on a regular basis every day. Yet, the fear behind its side effects still leaves many dubious. Here's everything you need to know about the vaccine before taking it.
How does the vaccine work?
India is currently using 2 vaccines Covishield by Serum Institute of India and Covaxin by Bharat Biotech. Both these vaccines have to be administered in 2 doses. It is recommended to have a gap of 4-6 weeks between each dose for Covaxin and a gap of 12-16 weeks for Covishield. Emergency approval of the Russian vaccine Sputnik has also been given due to the reported shortage of vaccines from several states. The recommended gap between each dose for Sputnik is 21 days. The motive of all the 3 vaccines is to build an immunity against the virus in your body. But each vaccine does it in a different way.
Covaxin:
This is an inactivated vaccine that contains the dead Covid virus. So, the virus won't be able to replicate in your body but, the body would still try to kill the foreign organism. Hence, when the virus actually infects you, your body would stimulate an immune response at super-speed due to its prior memory.
Sputnik:
This uses an adenovirus vector (the virus that causes the common cold) which acts as a carrier of the spike protein from the actual coronavirus. When the vector enters our cells it would hijack our nucleus into synthesizing these proteins. These spike proteins then attach to the outside of your cells. This foreign body triggers an immune response that kills all the cells with spikes (vaccinated cells). When the actual coronavirus infects us, our body quickly stimulates the immune system due to its memory and prevents more cells from getting affected.
Covishield:
This uses the same adenovirus but is modified to look like coronavirus. This way the illness cannot be caused in our body but our immune cells would have recognized the virus. So, when the actual infection takes place our body would activate a Swifty immune response.
Cost and procedure for vaccination:
You can get vaccinated by registering beforehand in the Co-win app 2.0 or via the Co-win website which is a very simple process. The government of India has set a limit to the maximum price chargeable at private hospitals for each dose of the vaccines. Added to this, a 5% GST would be applied. Nevertheless, the vaccines are available free of cost for everyone in government hospitals.
Points to note while vaccinating:
It is very important to take your second dose after the time gap for the proper functioning of the vaccine.
It would take at least 2 weeks for the vaccine to begin working. So, you still have a chance of getting infected in the meantime and the vaccine might not be able to offer complete protection. Hence, it is important to follow all precautions even after vaccinating.
Even if the vaccines contain a part of the virus or inactivated virus, you wouldn't get infected because of the vaccine.
The vaccines won't stop or entirely prevent infection. They help the body to trigger a quicker immune response and fight against the virus. So, you can still get infected after taking the vaccine.
There can be mild to moderate side effects due to the vaccines which include nausea, headache, fatigue, weakness, chills, body pain, injection site tenderness or pain, mild fever. These can be observed after any vaccination and is a sign that the vaccine is working. So, there is no need to panic.
It is essential that you do not have any symptoms of covid, cold, fever, or other such issues for 3 weeks before vaccinating. While your body is already fighting against the agents that caused the above issues, the vaccine could overburden your body and make things worse.
Follow the below precautionary measures, whether or not you vaccinated to keep yourself and those around you safe,
Going out only when it is absolutely necessary.
Wearing a mask at all times when outside.
Maintaining at least a distance of 2m from everyone outside.
Avoid going to crowded or closed spaces like lifts.
Keep your vehicles and homes ventilated.
Sanitize your hands several times a day.
Take a bath and wash your clothes immediately after coming from outside.
Stock up on all necessary medicines, medical equipment, and other supplies.
Stay informed about what is happening around, regarding the virus.
Teach your children about all the above measures.
Get vaccinated as soon as possible to stop the spread.